PUBLISHED BY: SURENDER KUMAR
DECEMBER 13, 2013



Jang Song Thaek, North Korea's influential leader and Kim Jong Un's uncle, has been executed by the regime for his alleged acts of treason and trying to overthrow the government. Jang was seen helping Kim Jong Un consolidate power after father, Kim Jong Il's death, two years ago. But tragically, Jang who was once considered no. 2 power in the country, had recently lost all his posts because of allegations of corruption, drug use, gambling, womanizing and leading a "dissolute and depraved life."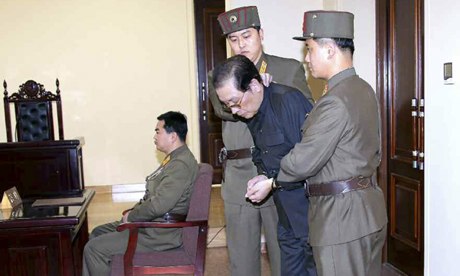 A military tribunal had examined the charges including "trying to overthrow the government by intrigues and despicable methods with a goal to grab the supreme power.



On the other hand, political tensions still run high in North Korea following threats by Kim Jong Un's government against Washington, Seoul and Tokyo, including vows of missile and nuclear strikes and warnings that North Korea would restart making nuclear bomb fuel.